Friday, May 02, 2008

The image is a pant, a breath, but it is an expiring breath, on its way to extinction. The image is that which extinguishes itself, consumes itself: a fall.
-Buzz Bissinger

Ain't no way against me you can get juice
-Vanilla Ice



DONT CALL IT A COMEBACK!!!!!!!!!!!



Jesus Bron Bron, u call yourself KING, you aint even BILLIE JEAN KING!!!!

because Billie Jean didnt cry when she was beaten by a backhand!!!!

SAY oops up side yo head, say oops uposide yo head somebody say obala!!!

When Tuff Juice put tha soul in tha hole destiny turned on the radio and tuned it to Stephen Malkmus who was closing out his set at Wow Hall in Eugene Oregon and honored his playoff promise when he yelled 'FREE PAPA JOHNS FOR EVERYONE!!!!!!' and now the STICKS and STONES SERIES comes on home, Baby C'Mon!!!!!

The Wizards had to get back to playing basketball so Captain Antawn called a players only meeting after game 4 and sat his teammates down for two hours and read them Shel Silverstein books. And when he was done the team emerged as a real team again, ready for sharing. Nick Young emerged wearing a big cardboard box with a smiley face drawn on it but it turns out that had nothing to do with the Shel Silverstein stuff.




And it wasnt always pretty. Winning UGly isnt just the name of the Popeye Jones' Learning Annex Seminar, its our new playoff slogan. ArgeyBargey, limbs akimbo, turnovers, stray passes, t-ups, mutt technique. Man DeShawn's got an ugly shot! DeShawn doesnt shoot the three pointer so much as he squeezes it out!!!! But dont let those cleveland tears and tiaras fool u cuz this aint no beauty contest.

Game 5 answered some big questions, like do the Wiz still have fight in them?
and will they keep their poise?

and like wHo is the worst player in the NBA, Wally Szczerbiak or Anderson Verejao??




Sure ANDY VERAJINA is a bulbous spotfaced shirly temple turdface mofo but WALLY is as special kind of series-turning mess. Those oafy turnovers off the legs, the ball click-clacking off his tindersticks, his eyes cloudy with the powerless and resigned familiarity of old Bob Barker standing a lifetime infront of the giant prop Pachinko game on the Price is Right, thinking about the neutered as the big plastic chip goes click-clacking down to its $5 fate. Wally is so amazingly slow. If Lebron isnt even Billie King Wally isnt even Bobby Riggs.

How slow is Wally??

Wally is so slow he got a sponsorship deal from UGG Boots!
Wally is so slow he hangs round local special ed school looking to drag race the school bus!
Wally is so slow he warms up to Luther Vandross!
Wally is so slow that after games he gets treatment on his bedsores!
Wally is so slow at night he has dreams he's Tracy Murray!!!!!!!!!!!




SO after this stirring road win why is it all NBA Analists wanna talk about is how they hate Gilbert Arenas?



How team is better off without him? Taking cheap shots at a 3time allstar who took pills and shots just to hobble around for his boyz? Saying team dont need Zero cause they get role playrers involved more when hes not making gamewinners all nitelong. Whatever that means cuz if players standing around thats a coaches problem but even then that doublethink is like saying "hey kick Jack Tripper out of the Regal Beagle so they can develop the character of Larry".

Most outrageous of the haters is our old friend Mike WIlbon.
He penned some long penny dreadful thats all about some people called "doers" and how DC dont need Gil and Gil talked trash. Hold it Gil didnt talk trash he just was just candid bout wanting to get a shot at the Cavs but theres no personality beads on scorekeeper Mikes big abacus and even so you got a lot of nerve telling people to shhhh it. You aint the Librarian around here! You the towns biggest blowhard. Youre Star Jones pal. These days WIlbons bashing everyone, Gil, and Bloggers!!! grumping like a new money Mr. Wilson, being like hes Basketball Van Guardian, the judge, giving his Cosby sermons on black pride, throwing his phantom weight around, the King of All Leisure lectuiring folks on work ethic, more yappyyappy from the man only made in the lazy old George Michael mafia.

You think you have right to do all that talking

I GOT THE CONCH!
I GOT THE CONCH
I GOT THE CONCH
I GOT THE CONCH

All day long!! Well i hate to break it 2 u piggy but SUCKS TO YOUR CONCH!!!!!!!!! cuz we all got conchs these days!!!! You dont got the only voice now. The rules have changed and they changed because of a little magic thing called COLECOVISION and theres one in every basement and a thoiusand little conchs and a thousand voices on the internet cuz we all get to speak and do our thing, a magic land of freeness where a man can do whatever he can dream, like posting pictures of a nude Maury Chaykin or checking her ranking on the Montgomery COunty Sex Offender database, or where a former great playwriter from Sweden can redeem himself on the Chowhound message boards reviewing the menus of Florida area strip clubs.

Its the internet! Its an opensource frontier, its an apartment with the blinds left up, its a place of gatherers and the gathered, its a midget running through the big science lab letting out the monkeys.

You know who we'd be better off without? Michael WIlbon. Thats who!

Cuz these days you are less relevant in DC than an Arizona Big and Tall store. You smell like obsolesence and it smells bitter and musty like recalled Michael Jordan Incense!






Because Gilbert is the heart of soul of DC hoops.


Hes ANANSI!!! HES THE FOLK HERO!!! THE TRICKSTER!! THE KING OF STORIES!!!!



While u r nothing but a

Cowitch

With Gilbert the Wizards are Gabe Kaplans CBS team on Battle of the Network Stars.

Sure the other networks might win more and Chachi can stick his obstacle course record on his tombstone but you play for NBC you play for Savalas, and he was a facist captain, who humiliated his plauyers and set curfews and made Linda Lavin have an abortion all just to win. And u play for ABC you play for Robert Conrad and u get great splits in the team relay but you have to listen to his anti-semitic rants at practice and cover up Dan Haggertys heroin problem.

But you play for Gabe Kaplan you know one thing for sure: win or lose you will have fun, you will wear short shorts and you will hear bad puns and you will remember why you fell in love with sports in the first place and you will shower with Penny Marshall!!!!


NOW ITS INTO THE MOTHERING HUT FOR GAME SIX!!!!

PRO'VERB WROTE A SONG ABOUT IT!

FANS CALL FOR WEEPOUT AT THE BUDDY BOOTH TONIGHTE!

FREE THE UNCIORN SLAYER!!!!

Labels: Playoffs, Playoffs 2008


posted by wizznutzz
OUR FAMOUS MOTHERING HUT T-SHIRTS
PERMALINK | | RSS Feed



---


Thursday, April 24, 2008




EVERYONES TALKING CRAZY ABOUT THE HARD FOULS!



NBA promises to crack down on "OUCHIES"!!!



The media is going crazy about HAYWOOD and LEBRON aka CRIMSON and CLOVER aka GOOD TOUCH and BAD TOUCH, acting like suddenly Brendan Todd is Sweeney Todd, somekind of crazed enforcer. CMon now LEBROn v Haywood is Rourke vs Schwimmer my friends we arent blind. IF BTH is ruffing you up, making ya cry "THEY TRYIN TO HURT ME DANNY!" then u know u soft. ALmost makes me wish we were back playing against ANDRES 'DIRTY WAR' NOCIONI. He might have been a filthy Argenitnia whore but at least he could take a kick in the Falklands.

This isnt hard ballin, this is a goddamned Pillow Fight we say!
We say its not physical enuff!!!!
U r playing for championshoips, not posing for a Ann Geddes calendar!

U want pain try 2 weeks in August in the Mothering Hut with Ken Beatrices night terrors and your forie in a cracked Greedo Pez dispenser !!!!


Verizon Center staff place playoff pillows in arenas seats: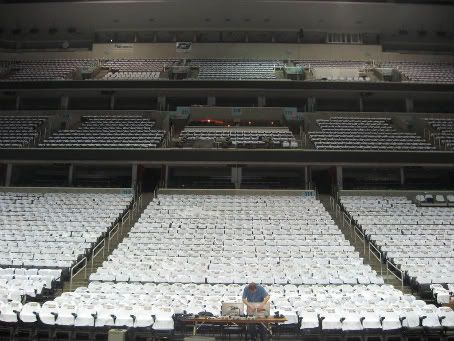 We say Punks jump up get beat down!
We say go Cronenburg on they asses, corruption of tha flesh!

We say no more scared pawing at loose skin, cuz U aint no Dwayne Wade and they aint no Star Jones.

Cuz right now Queen james is having his way in the lane, like a bull in a vagina shop.

When he drives lane, its like the goddammed video for "OWner fo a Lonely Heart" by YES: a dude having seizures while a bunch of big eyed reptiles sit around and stare. Cuz Queen james is owning us right now, hes not even owning DeShawn hes just leasing him cuz he doesnt want to be responsible for the oil changes.

And what happened to tha TREACHOROUS THREE???

Twan and Tuff Juice gotta step up, cuz thats what leading men do. Theres a reason they called them books The Hardy Boys Mysteries and not 'The Mysterious Chet' cuz Chet was a role player and his role was to "breathe a sigh of relief" not solve crimez DW DIXon stlye. You dont Die and Get Rich Trying in this league, making your dollars donating at the Sigh bank! And yes Caron was hot at All Star but have we learned nothing from the tragedy of Tim Legler??!!!

And DeShawns not helping things with his talking. Doing the "Cant Feel My Face" gesture when we down 16, that was the most ill advised taunting since Darius the Third of Persia made tha "ARABIAN GOGGLES" gesture to Alexander the Great !!!




We gotta help ourselves right now because the Leagues sure as hell not gonna help us. You ever think with DC hoops like there is some one up above messing with us like they have a giant voodoo doll??

Well thats cuz iuts true, DAVid Sterns up there in his suite with a magic GAMESHARK punching in his special cheat codes, codes like: 23EATWHISSLE, INFINITESOFT, DCMADAMS, PUPLIST, LORENZOSOIL, UPPITYFINEZ, NOMASCOT....

Thats right 'NOMASCOT' cuz ever notice what the hell happened to NBA Mascots? D Stern trying to get rid of em is what. Name me 3 NBA mascots! No Gheorghe Muresan dont count! D Stern got it in for the mascotmen, cuz bottom line is money for D League now, and G Bush came up with his plan for stopping Global Warming and the whole plan is based on reducing global footprint of sportsmascots by 2012 and all other leagues have made changes, like reducing flame retardants, and now The PHilly Fanatic got silver rating for sustainability cuz they remade him out of recycled concession grease, wheat grass and animal hair and he uses his costume to store his own greywater waste which he recycles to power eco-nuetral t-shirt gun but no david stern doesnt want to pay short term cuz he just wants to line his pockets and seek revenge on Abe Pollin for the time back in camp when Abe and Yitzhak told teen counselor Rabbi Cassidy about the possum and the tube of ben gay he had stashed in his sleeping bag. Wiz in 3 M**Therf*kerz!!!!!!!!!!!!

Labels: Playoffs, Playoffs 2008


posted by wizznutzz
OUR FAMOUS MOTHERING HUT T-SHIRTS
PERMALINK | | RSS Feed



---


Wednesday, April 23, 2008



Straight Outta Norra Begravningsplatsen!!!








You think that was a crushing defeat?





Folly!





When a man has awoken in a steamy ditch and studied his ravaged reflection in a pool of his own vomit,and thought, "Hey, not bad" -- such a man is not crushed by mismatched point totals.





Nay, every one of us is born defeated, and crushingly so; our subsequent worldly failings are but reminders our our essential nature. And thus should be received with gratitude! Please sir may I have another!



It is some sign of arrogance for one to not feel one's face? DeShawn is merely staring bravely into the numbness of the human soul. I, for one, cannot feel anything above my gullet, below my thighs, or west of my pancreas -- and the region remaining is a hot mess of weeping sores and engorged pustules.

Mighty Lebron was frightened as he fell to earth, fearing injury? We at Wizznutzz have been falling for generations -- hitting rock bottom would be sweet relief. Lebron is but a bit player on the stage of this tragedy, a transient Rosencrantz amid a cast of thousands, of Rods and Gars and Gods.

It was said last Thursday, and shall be said again: Wizards in six!

Labels: August Strindberg, Playoffs, Playoffs 2008


posted by wizznutzz
OUR FAMOUS MOTHERING HUT T-SHIRTS
PERMALINK | | RSS Feed



---


Tuesday, April 22, 2008

NO INCITES TODAY.

We are not speaking to the media.

Also because last night we got ejected from our offices at Circuit City for "conduct unbecoming to the Company" (we were using the giant novelty EASY buttons in an innapproproate manner)




But while we R here, id like to say that one of best things about playoff basketball is all the new visitors we get coming to our site from great places like Cleveland and the joshy banter we get to mhave with these freindly ambassadors!!!

Like Cavs Fan and wayshower 'ROB'!!!

He celebrated last nights cleveland win by sending us this really on-point email!!!!

I think youll agree we have a future wizznutzz intern here!!!

I also think youll also agree the best part is the part about Michael Jordan!!!!


Heres Rob!!!




Wow, guess after tonight your whole "wizards in five prediction" blew up in your face like that can of gasoline that Deshawn Stevenson was apparently holding next to LeBron's fireplace...Maybe thats why he can't feel his face (the MOST RIDICULOUS self egrandizing gloss I've ever seen). And I thought I would comment on your Rap Battle NBA edition. After a cursory glace, and thats all it deserved was a cursory glance (if you didn't know, that means a passing glance)....Your blog is PATHETIC. I realy feel like your only talent is to call people names, question a mans sexuality, boast at the top of your lungs regailing yourself with your own supossed cleverness. I'm sorry but your team clearly is inferior, it's absolutely Pathetic that you have to question a man's sexuality (no smokestack left behind hahaha, really fucking witty, sooooooo clever). Clearly you have no other ammunition other than to go for the cheap shot, the cheap shot by the way that has no basis in reality, and constitutes a basic DEFAMATION OF CHARACTER (HE has a wife). And try and tear down a man that you are clearly jealous of. Did you cheer for Micheal Jordan when HE played for your team????? Because I'm pretty sure HE is the greatest shoe salesmen, and advertising guru, I mean he's almost as responsible as Phil Knight is for what Nike is today. But yet, you're going to call him a copycat who knows nothing but the value of shoes=cash. Come on if you had any talent at all maybe someone would come and offer you some sort of endorsement deal (I know far fetched isn't it) and PLEASE don't fancy yourself a columnist, because you have a shitty blog that I was all too unfortunate to come across. If you care to comment on your team fine, if you want to actually analyze the two teams and ther redeming qualities and deficiencies then thats fine too. But try and refrain from acting like some pechulant little child who just got kicked in the nuts by the biggest bully in school, because you're right LeBron is a bully, the kind that is just better than you. Aparantly you just can't accept that your team is inferior, and have to resort to childish blast about the cavs, if that helps you sleep at night, then fine, but I know that I'll be sleeping even better on a nice 30 point win pillow.

Labels: Playoffs, Playoffs 2008


posted by wizznutzz
OUR FAMOUS MOTHERING HUT T-SHIRTS
PERMALINK | | RSS Feed



---


Friday, April 18, 2008


WIZARDS CAVALIERS PLAYOFF PREVIEW!!!!

BATTLE OF THE BANDS EDITION!!!!

The 2007 Numbers:
Series record:

2-2


Off. Rank:

DC(14) CLE.(24)


Def. Rank:

DC(12) CLE. (8)


2007 Population Change:

DC(+7000) CLE (-13,000)
The Words:
He said:
"He's overrated. And you can say I said that."
She said:
"With DeShawn Stevenson it is kind of funny. It's almost like Jay-Z saying something bad about Soulja Boy."
He said:
"I'm your 100th problem
I'm like Tyson icin' I'm a Soulja at war
I'm makin' sure you don't try to battle me no more"
She said:
"Save ya back talk for the chiropractor"
Round Three Begins tomorrow and Wizznutzz breakdown the complete position battles, baller vs baller,

MUSIC ARTIST vs
MUSIC ARTIST
, to show u Cavs are less Ohio Players and more Bruce Whoresby and The Range!!!!
CLick on tha artists names for so awesome videos!
THE BENCH:
Damon Jones vs. Dominic McGuire & Nick Young

MC BRAINS vs. KID n PLAY
Why MC Brains:
Both irritating, juvenile. Both have oversized egos. Both ride the coat tails of others (LeBron, DeVoe). Both sport peach fuzz. Both popular with Trapper Keeper crowd.
Why Kid n Play:
Joyful, lovable, irrepressible, fashion-challenged hams.
. . . . . . . . .
Anderson Varejao vs. Oleksiy Pecherov

SWING OUT SISTER vs. FALL OUT BOY
Why Swing Out Sister:
Just please make it stop.
Why Fall Out Boy:
Emo titans. Big eyes, signature bangs, distressed graphic print shirts, radiation poisoning. Fallen out of rotation. "A Little Less Sixteen Candles, a Little More Touch Me" sounds like something Pechrov might say in broken English. Pecherov is extremely impressionable: could easily be talked into wearing eye-liner by teammates.
. . . . . . . . .
Andray Blatche vs. Lance Alfred

HOT CHOCOLATE vs. VANILLA FUDGE
Why Hot Chocolate:
Both have sex on the mind at all times. Both are popular at High School Proms.
Why Vanilla Fudge:
What songs did Vanilla Fudge do again?
Exactly
.
. . . . . . . . .
Wally Szczerbiak vs. Darius Songalia

ALAN THICKE vs. THE ALAN PARSONS PROJECT
Why Alan Thicke:
Yes Wally has the cheesey neo-soul of
Robin
Thicke, but his dad Alan was a musician too (Composed themes to Diff'rent Strokes AND Hello Larry!) and Alan, like Wally, is older and even less talented. Both are foreigners but have a creepy all-American look. Both seem slightly drunk at all times.
Why Alan Parsons Project:
Orchestrations that are complex yet slow. Abstract. Foreign. Pasty.
. . . . . . . . .
Sasha Pavlovic vs. Antonio Daniels

WHEN IN ROME vs. BAD BRAINS
Why When In Rome:
Represents the NBA New Wave. Sophisti-pop ballad "Promise" is the European 3-Pt specialist's theme. Still occasionally recognized in bad Serbian discos.
Why Bad Brains:
Aggressive. Relentless. Hardcore. A veteran of the DC scene. DIY attitude. Fan favorite. Throws body into the pit and doesn't expect to be caught.
. . . . . . . . .
Daniel Gibson vs. Roger Mason Junior

TEVIN CAMPBELL vs. RAY PARKER JUNIOR
Why Tevin Campbell:

New Jack Swingman. Young, sweet, sexually unthreatening.
Why Ray Parker Junior:

Both agreeably smooth, both
unspookable
. Both session guys who shot to solo fame. Both hated by Huey Lewis.
THE STARTERS:
Ben Wallace vs. Antawn Jamison

TERMINATOR X vs. DJ SPINDERELLA
Why Terminator X:
The X factor, an old school legend who sets the tone and speaks with his hands. Brought in to terminate shots, 'shut em down', and 'bring that beat back' but these days mostly plays like he has
his head stuck in the sand
.
Why Spinderella:
Antawn is the quiet backbone of the group, a smooth old school spinner, a cut chemist with a thousand tricks and techniques and a feminine touch.
. . . . . . . . .
Gilbert Arenas vs. Devin Brown

HUMPTY HUMP vs. PEABO BRYSON
Why Humpty:
Gilbert is a man of a thousand disguises, a pranksta with a nose for trouble, and Margot Kidder crazy.
Psycho alpha, that means the crazy one
Gold nose lazy one
Skill to kill
I never worked I never will
I'm the original high yellow rich rigger bum
Hookers getting mad cuz they can't make me come
Around their way
Addicted to the way that I play
I like to chew bubblegum
Make them laugh when I'm loving them
I blew a bubble and some Bubble-Yum

It's time to pull out my funny bone and get ready for the fun
The return of the crazy one!
Why Peabo:
Both are swingmen who are soft with the rock, inoffensive, and both are often playing in the room when Cav's coach Mike Brown makes love to his wife.
. . . . . . . . .
Zydrunas Ilgauskas vs. Brendan Haywood

RIGHT SAID FRED vs. THE SHIRELLES
Why Right Said Fred:
Both are one hit wonders. Both were major label disappointments. Both wear mesh shirts. Both went bald early. Both are gay icons. Both are spokesmen for the Lithuanian charity No Smokestack Left Behind.
Why The Shirelles:
My Little Soldier Boy,
Haywood has big lungs, small hands, a soft finish and the strength of 4 women.
. . . . . . . . .
Caron Butler vs. Delonte West

STEPHEN MALKMUS vs. BABYSHAMBLES
Why Malkmus:
Underdog.
Cold Son.
"I have my own man-crush on him."
Why Babyshambles:
Both gifted, both mutts, both physical
wrecks
, both cheap, both
can't control their women,
both can often be found urinating in public.
. . . . . . . . .
DeShawn Stevenson vs.
LeBron James
SOULJA BOY
vs.
JAY-Z
Why Soulja Boy:
Both cheeky, brash and infectious. Both unstoppable. Both arena favorites. Both are youtube
sensations
.
Why Jay-Z:

LeBron is right. He is Jay-Z.
He is an ugly, scowling, overrated, overexposed bully.
He is a bloated copycat with predictable flow.
He was raised by a single mother also named Gloria who also instilled in him the important value of "SHOES=CASH".
His relationship with David Stern is a creepy, arranged marriage.
He is a touchy fleur de peau.
A paper mogul.
A hero simulation.
A megachurch, particle-board Jesus.
An Applebee's Objectivist.

A predatory malaissez-faire Klepto-Capitalist.
A monomaniacal self-crowning royal who built his kingdom on repurposed soul and the sales taxes of a 14 year-old suburban serfdom.
But LeBron: your kingdom isnt filled with nobles or knights itz filled with Admen who worship buzz analytics and its filled with Yesmen and Plus Ones swinging their sticks at the big cash pinata and when they are done beating you for coins Shisty Spitsy you will end up an empty papermache husk and all they kings men wont even try to put SHitsy back together again because they will be off to groom sheckles from the coarse hairs of the next in line like fussy ape-maidens while you end up in that place where all brands go to die.

Just something to think about my Queen!



Wiz in 5!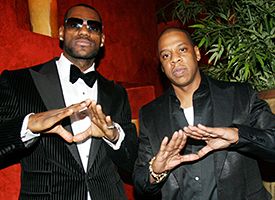 Jay-Z and LeBron shown here making the universal sign language symbol for 'Vagina Brothers'

. . . . . . . . .

BONUS MATCHUPS!!!!!



THE COACHES:



Coach Eddie Jordan vs. Coach Mike Brown

MALCOLM MCLAREN vs. JEROME FROM THE TIMEWhy Malcolm McLaren:


Like Malcolm, Jordan is a Svengali, an avant-garde impressario, a manager of lunatics, an ideas man and a snappy dresser.




He also runs a post-modernist offense that features Buffalo Gals running 'round the outside!

Why Jerome from The Time:

When Brown was hired as Cleveland's coach he was asked to one thing: keep LeBron happy. And he does that by

dancing in front of his narcissistic star with a giant mirror.

O-WAY-O-WAY-O!

. . . . . . . . .

THE POSTIES:




The rivalries extend beyond the court

to the Post reporters that cover them!Dan Steinberg vs. Michael Wilbon

??????? vs. ???????



YOU DECIDE!!!!!!



HOP ON THE COMMENT BOARD AND GIVE US YOUR STEINZ/WILBON MUSIC RIVAL DOPPLEGANGERS or come up with your own Wiz/Cav duels!

(NO 'MOBYS' ALLOWED!!!)

We say its:

THE ROCKMELONS vs LEVERT

!!!


. . . . . . . .

"I hope we play Cleveland. I'm going to get Soulja Boy courtside seats and have him wear a DeShawn Stevenson jersey. Maybe (James) can have Jay-Z there since LeBron's all on his (shorts) anyway.

I say next step is to get all these Wizards musical doubles in the crowd for the home games!

WIz General Manager Rueben Kincaid can organize it!

It would be an awesome sight:

Malkmus handing towels and straws to Caron during timeouts and and live blogging it all on is iPhone!

The SHirelles sitting behind the Cavs bench heckling them like a big black

Robin Ficker

with 4-part harmony!

Spinderella pulling her gold braids out of a massive plate of Executive Nachos!

Humpty getting busy in a Verizon center bathroom!

Pete Wentz on F Street chatting to

BOG TV

about Weepy White Guys, his new charity for teens with emotional issues, while Littles consoles a dozen overweight goths!

. . . . . . . . .

2006 Wiz/Cavs Playoff Preview!Full 2005 Wiz/Cavs Playoff COverage!Listen to Wizznutzz Classic Audiobook SHITSY SPITSYListen to Exclusive Queen James Remixes

Labels: Playoffs, Playoffs 2008


posted by wizznutzz
OUR FAMOUS MOTHERING HUT T-SHIRTS
PERMALINK | | RSS Feed



---


Thursday, April 17, 2008



PLAYOFF PREVIEW PART 1!



Check back before tipoff for complete position by position analisis!



But first, a certain intern that we behate to belove just nailed this soiled sheaf of robust violence to the back of a Montgomery Wards greeter!!!!!



Straight Outta Norra Begravningsplatsen!!!


Its August Strindberg!





and hes got a mind full of basketball incites made by genius (and full of small holes made by the absinthe)







As I famously once quipped, "If all bacon is crispy...oh damn damn damned whore of a life!" And ne'er tru'er words 'ere spoken. But you know what?
Sometimes damned whores are okay!
And sometimes life is okay too. And if this passing hope is nothing but a flickering picture-show on the vaginal walls of the succubus, well then get me some popcorn, because this film has won my heart. Yes, awards season is upon us, and these Zardonauts are the wildest romp since

"Un Chien Pervis"

(1923).

All this chatter of

Most Valuable Players

is but a fig leaf on a castrato.


Middle-aged Bryant

is little more than an incipient Pharaoh Salieri, mule-driving the Jews (Farmar, Seckbach) to "glory."

And Most Improved?

Hedo Turkoglu

dares speak of personal improvement when he still cannot fall asleep after road games without cuddling "Nicky," his plush donkey sewn from Vlade Divac's used nicotine patches?

Nay, the real winners live and bowl much closer to home, in our own dwindling Chinatown.

Coach of the Year is

Dave Hopla

, narrowly beating out

Mike O'Koren

, who moistly collected nut after nut in those bulging cheeks. But Hopla has to be the choice - the man who taught

Brendan Haywood

to accept his vulnerabilities and squat deeply.

Phil Chenier

posthumously collects a

Lifetime Achivement Award

from the Lifetime Network for his Golden Girls teleplays.

Sixth Man

goes once again, and forevermore, to Don MacLean.

Andray Blatche

is my pick for

Best Actor in a Dramedy

.

Antawn Jamison: Best Smile.

Stay sweet Antawn!!!

Point is, my friends, none of us are fools. We all know how this movie ends.

We have read of Icarus and the sun, we have read of Oedipus and the succulent succubus. The chorus murmurs and our cilia tremble in accord: "The Wizznutzz story is a story about overcoming odds, but mostly not overcoming odds." We can hope otherwise - but hope and five kronors buy you nothing but a five-kronor whore (and, two months later, a case of the Austrian Prickles). Nay, there is hope and then there is the screeching harpy, and the screeching harpy does not lose. The screeching harpy is like Robert Horry, carpetbagging her way to victories - unearned victories, but victories nonetheless. My overcoat grows slightly more soiled, and the wind outside this Merrifield Taco Bell grows cold.

But! At times like this I return to the scriptures. Camus tells us: "I must imagine Sisyphus happy." Schwartz speaks: "In dreams begin responsibilities." Buckhantz proclaims: 'It's not possible! It's not possible - but it happened anyway!"

Brother Albert, Brother Delmore, Brother Steve, do not fail me now!

The not-possible shall become oaken deed.



We will go to Ohio, and we will dine upon Damon Jones's pancreas, and then we will urinate upon his hollowed bloodwarm cadaver! Acrid pissy steam will rise, mixing with the Cuyahoga mist, and the billowing gray clouds will form the mouth of Agent Steinz, and the mouth will speak: "Wizards in six!"

Labels: August Strindberg, Playoffs, Playoffs 2008


posted by wizznutzz
OUR FAMOUS MOTHERING HUT T-SHIRTS
PERMALINK | | RSS Feed



---