WIZARDS CAVALIERS PLAYOFF PREVIEW!!!!

BATTLE OF THE BANDS EDITION!!!!

The 2007 Numbers:
Series record:

2-2


Off. Rank:

DC(14) CLE.(24)


Def. Rank:

DC(12) CLE. (8)


2007 Population Change:

DC(+7000) CLE (-13,000)
The Words:
He said:
"He's overrated. And you can say I said that."
She said:
"With DeShawn Stevenson it is kind of funny. It's almost like Jay-Z saying something bad about Soulja Boy."
He said:
"I'm your 100th problem
I'm like Tyson icin' I'm a Soulja at war
I'm makin' sure you don't try to battle me no more"
She said:
"Save ya back talk for the chiropractor"
Round Three Begins tomorrow and Wizznutzz breakdown the complete position battles, baller vs baller,

MUSIC ARTIST vs
MUSIC ARTIST
, to show u Cavs are less Ohio Players and more Bruce Whoresby and The Range!!!!
CLick on tha artists names for so awesome videos!
THE BENCH:
Damon Jones vs. Dominic McGuire & Nick Young

MC BRAINS vs. KID n PLAY
Why MC Brains:
Both irritating, juvenile. Both have oversized egos. Both ride the coat tails of others (LeBron, DeVoe). Both sport peach fuzz. Both popular with Trapper Keeper crowd.
Why Kid n Play:
Joyful, lovable, irrepressible, fashion-challenged hams.
. . . . . . . . .
Anderson Varejao vs. Oleksiy Pecherov

SWING OUT SISTER vs. FALL OUT BOY
Why Swing Out Sister:
Just please make it stop.
Why Fall Out Boy:
Emo titans. Big eyes, signature bangs, distressed graphic print shirts, radiation poisoning. Fallen out of rotation. "A Little Less Sixteen Candles, a Little More Touch Me" sounds like something Pechrov might say in broken English. Pecherov is extremely impressionable: could easily be talked into wearing eye-liner by teammates.
. . . . . . . . .
Andray Blatche vs. Lance Alfred

HOT CHOCOLATE vs. VANILLA FUDGE
Why Hot Chocolate:
Both have sex on the mind at all times. Both are popular at High School Proms.
Why Vanilla Fudge:
What songs did Vanilla Fudge do again?
Exactly
.
. . . . . . . . .
Wally Szczerbiak vs. Darius Songalia

ALAN THICKE vs. THE ALAN PARSONS PROJECT
Why Alan Thicke:
Yes Wally has the cheesey neo-soul of
Robin
Thicke, but his dad Alan was a musician too (Composed themes to Diff'rent Strokes AND Hello Larry!) and Alan, like Wally, is older and even less talented. Both are foreigners but have a creepy all-American look. Both seem slightly drunk at all times.
Why Alan Parsons Project:
Orchestrations that are complex yet slow. Abstract. Foreign. Pasty.
. . . . . . . . .
Sasha Pavlovic vs. Antonio Daniels

WHEN IN ROME vs. BAD BRAINS
Why When In Rome:
Represents the NBA New Wave. Sophisti-pop ballad "Promise" is the European 3-Pt specialist's theme. Still occasionally recognized in bad Serbian discos.
Why Bad Brains:
Aggressive. Relentless. Hardcore. A veteran of the DC scene. DIY attitude. Fan favorite. Throws body into the pit and doesn't expect to be caught.
. . . . . . . . .
Daniel Gibson vs. Roger Mason Junior

TEVIN CAMPBELL vs. RAY PARKER JUNIOR
Why Tevin Campbell:

New Jack Swingman. Young, sweet, sexually unthreatening.
Why Ray Parker Junior:

Both agreeably smooth, both
unspookable
. Both session guys who shot to solo fame. Both hated by Huey Lewis.
THE STARTERS:
Ben Wallace vs. Antawn Jamison

TERMINATOR X vs. DJ SPINDERELLA
Why Terminator X:
The X factor, an old school legend who sets the tone and speaks with his hands. Brought in to terminate shots, 'shut em down', and 'bring that beat back' but these days mostly plays like he has
his head stuck in the sand
.
Why Spinderella:
Antawn is the quiet backbone of the group, a smooth old school spinner, a cut chemist with a thousand tricks and techniques and a feminine touch.
. . . . . . . . .
Gilbert Arenas vs. Devin Brown

HUMPTY HUMP vs. PEABO BRYSON
Why Humpty:
Gilbert is a man of a thousand disguises, a pranksta with a nose for trouble, and Margot Kidder crazy.
Psycho alpha, that means the crazy one
Gold nose lazy one
Skill to kill
I never worked I never will
I'm the original high yellow rich rigger bum
Hookers getting mad cuz they can't make me come
Around their way
Addicted to the way that I play
I like to chew bubblegum
Make them laugh when I'm loving them
I blew a bubble and some Bubble-Yum

It's time to pull out my funny bone and get ready for the fun
The return of the crazy one!
Why Peabo:
Both are swingmen who are soft with the rock, inoffensive, and both are often playing in the room when Cav's coach Mike Brown makes love to his wife.
. . . . . . . . .
Zydrunas Ilgauskas vs. Brendan Haywood

RIGHT SAID FRED vs. THE SHIRELLES
Why Right Said Fred:
Both are one hit wonders. Both were major label disappointments. Both wear mesh shirts. Both went bald early. Both are gay icons. Both are spokesmen for the Lithuanian charity No Smokestack Left Behind.
Why The Shirelles:
My Little Soldier Boy,
Haywood has big lungs, small hands, a soft finish and the strength of 4 women.
. . . . . . . . .
Caron Butler vs. Delonte West

STEPHEN MALKMUS vs. BABYSHAMBLES
Why Malkmus:
Underdog.
Cold Son.
"I have my own man-crush on him."
Why Babyshambles:
Both gifted, both mutts, both physical
wrecks
, both cheap, both
can't control their women,
both can often be found urinating in public.
. . . . . . . . .
DeShawn Stevenson vs.
LeBron James
SOULJA BOY
vs.
JAY-Z
Why Soulja Boy:
Both cheeky, brash and infectious. Both unstoppable. Both arena favorites. Both are youtube
sensations
.
Why Jay-Z:

LeBron is right. He is Jay-Z.
He is an ugly, scowling, overrated, overexposed bully.
He is a bloated copycat with predictable flow.
He was raised by a single mother also named Gloria who also instilled in him the important value of "SHOES=CASH".
His relationship with David Stern is a creepy, arranged marriage.
He is a touchy fleur de peau.
A paper mogul.
A hero simulation.
A megachurch, particle-board Jesus.
An Applebee's Objectivist.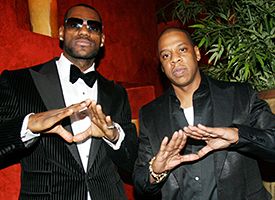 Jay-Z and LeBron shown here making the universal sign language symbol for 'Vagina Brothers'
. . . . . . . . .
BONUS MATCHUPS!!!!!



THE COACHES:
Coach Eddie Jordan vs. Coach Mike Brown

MALCOLM MCLAREN vs. JEROME FROM THE TIME
Why Malcolm McLaren:


Like Malcolm, Jordan is a Svengali, an avant-garde impressario, a manager of lunatics, an ideas man and a snappy dresser.



He also runs a post-modernist offense that features Buffalo Gals running 'round the outside!
Why Jerome from The Time:
When Brown was hired as Cleveland's coach he was asked to one thing: keep LeBron happy. And he does that by
dancing in front of his narcissistic star with a giant mirror.
O-WAY-O-WAY-O!
. . . . . . . . .
THE POSTIES:
The rivalries extend beyond the court
to the Post reporters that cover them!
Dan Steinberg vs. Michael Wilbon
??????? vs. ???????



YOU DECIDE!!!!!!



HOP ON THE COMMENT BOARD AND GIVE US YOUR STEINZ/WILBON MUSIC RIVAL DOPPLEGANGERS or come up with your own Wiz/Cav duels!

(NO 'MOBYS' ALLOWED!!!)

We say its:

THE ROCKMELONS
vs
LEVERT
!!!
. . . . . . . .

"I hope we play Cleveland. I'm going to get Soulja Boy courtside seats and have him wear a DeShawn Stevenson jersey. Maybe (James) can have Jay-Z there since LeBron's all on his (shorts) anyway.
I say next step is to get all these Wizards musical doubles in the crowd for the home games!
WIz General Manager Rueben Kincaid can organize it!
It would be an awesome sight:
Malkmus handing towels and straws to Caron during timeouts and and live blogging it all on is iPhone!
The SHirelles sitting behind the Cavs bench heckling them like a big black
Robin Ficker
with 4-part harmony!
Spinderella pulling her gold braids out of a massive plate of Executive Nachos!
Humpty getting busy in a Verizon center bathroom!
Pete Wentz on F Street chatting to
BOG TV
about Weepy White Guys, his new charity for teens with emotional issues, while Littles consoles a dozen overweight goths!
. . . . . . . . .
2006 Wiz/Cavs Playoff Preview!
Full 2005 Wiz/Cavs Playoff COverage!
Listen to Wizznutzz Classic Audiobook SHITSY SPITSY
Listen to Exclusive Queen James Remixes